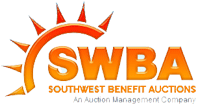 An Auction Management Company
Southwest Benefit Auctions™ is an auction management company specializing in the support of the non-profit sector and its benefit auctions. Services include but are not limited to providing staffing, auctioneers, training, cashiering, recording live, monitoring volunteers to register guests, entering data, close auction bids, and training on AuctionMaestro Pro, the company's preferred auction management software. Southwest Benefit Auctions offers tips that can add as much as 25% to your auction receipts.
Located in San Diego, California, Southwest Benefit Auctions serves the Southern California area with experienced auctioneers, and event coordinators and staff ready to serve you. We have built a solid reputation in the southwest for many years with auction clients in California and Arizona. In late 2004 we officially launched Southwest Benefit Auctions so support and staffing would be close at hand to our valued clients.
858-598-3502
CONFIG TEMPLATE

This template controls the elements:

FOOTER: Footer Title, Footer Descriptions
CUSTOM MENU: Images and columns into header main menu submenu items

* This message is only visible in administrative mode